Recently, we sat down with Vera Whole Health Coach Nina Auerbach to talk about her experiences as a health coach, why she loves her job, how Vera Whole Health Coaching is different, and what it's like to work at Vera.
What do you love about working at Vera?
Nina: Vera is trying to change lives by helping people become healthier. Not in the traditional model kind of way, but a holistic way, looking at the whole person — lifestyle, diet, exercise, and medical health.
I'm a coach with Vera, and I love the coaching approach, which is based on empathic listening and esteeming individuals. It's a better way of working with patients and treating them like people.
That's one of the most significant differences about Vera and what makes them unique. When someone sees a provider or care team at Vera, there's always time to ask questions. People aren't rushed in and out, which typically happens in a regular doctor's office.
I love working with people, thinking through problems with them, developing a plan together — that always includes other providers and practitioners. It's a better, more holistic kind of model.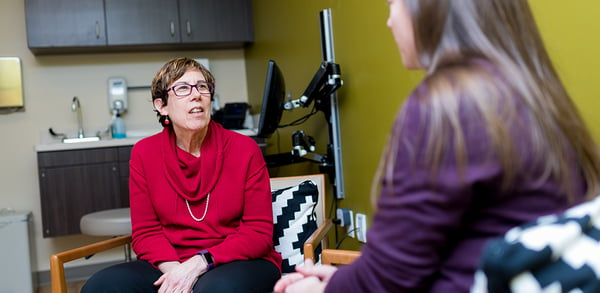 What do your patients value the most about the health clinic?
Nina: I often hear how much they like health coaching. A provider may say to you, you need to lose weight, or you need to be more active. As a coach, I'll help you put that into action.
In most medical practices, the doctor doesn't have the time. But at Vera, with a health coach, there's room for that to happen. Coaches support the medical advice and recommendations patients receive by working with the patients to craft actionable goals that lead to behavior change.
Patients feel like they're in charge of their health, and I think that's important. As a coach, I work hard for them to feel like they're in charge of their behavior change. I'm not doing it for them. I'm not telling them how to do it. We're partners.
People like that. There's a humanity and a care that comes through — especially with the coaching — that people respond to.
What do you enjoy most about your job?
Nina: I love the coaching aspect. I serve a great population. The partnerships I have with my patients can go deep as we discover different areas they want to change to do more with their lives. The coaching, for me, is enjoyable, stimulating, and challenging.
Also, I really like the team. I'm in a unique situation because my office is not in the clinic. They didn't have enough space in the clinic so my office is in another building. I was worried it might be weird or that I would feel disconnected, but I don't. I very much feel accepted and a part of the team. We've all committed to putting effort into it.
Before I came to Vera, I was working in a completely different field for 25 years. I became interested in coaching and earned the certification that led me to health coaching.
When I was in training, I remember going for a walk and just thinking, "Oh my God. This is huge. My whole life has changed. This is a seismic change." And it's worked out well. I'll always be grateful to Vera for taking a chance with me and believing in me.
Have you had a patient or an experience that's been especially meaningful to you?
Nina: I've seen a number of people make tremendous changes.
I had one guy I'd been working with actually for about two years, which isn't unusual. He started out wanting to work on basic stuff, like getting enough sleep, exercising two or three times a week, eating a healthy diet.
After he conquered all that, he wanted to work on deeper things, like becoming a better planner. Which, after time, and help, he's been successful.
Now he wants to quit vaping, which is a big deal. But here's the amazing thing: without all the previous successes, he wouldn't have been ready. Because he's shown himself that he can make these changes and sustain them, he's at a point now where he feels willing to take on this huge challenge.
He feels empowered to be successful, and he will be.
For more about careers with Vera, subscribe to our blog—just be sure to check the "I'd like to receive updates about careers with Vera" in the form below.
Sign up
Join our email list to receive the latest open positions, Vera Careers news, and more.